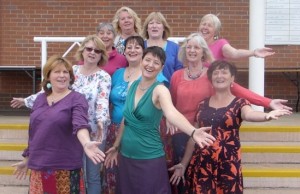 Wacapella is Sing The World's performance choir! For those of our singers who wish to perform, there are occasional opportunities to do so at local venues such as Ace Space and in festivals such as Sing For Water.
If you'd like to perform with us, it's simple: just attend our regular Sing The World sessions. There are no auditions or a requirement to be able to read music: just a willingness to commit to attending our weekly sessions, and also practicing a little at home with the song tracks and word sheets we provide for Wacapella singers.
Past performances have included singing in the Mayor's Fringe Festival; Sing For Water in the Thames Festival in London; The Berkshire Giant; Newbury Unplugged at Ace Space; the "1,000 Voices" Newbury winter singing festival; and Newbury CultureFest.
Our last performance was:
Friday 10th March 2017at Newbury Unplugged, Ace Space
Past Wacapella performances:
For more information about Wacapella and Sing The World please contact us by email.
We look forward to singing with you!