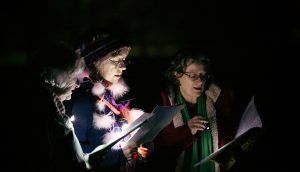 Sing The World is a Newbury-based a capella community choir, which has been running successfully now using Natural Voice principles for over a decade. During lockdown we carried on singing online and outside, but we are now back inside (mostly) and have been since the Autumn of 2021.
We meet fortnightly on Monday evenings at Speen Parish Hall in Newbury, singing music drawn from a wealth of singing traditions from throughout the world. The group has been led by Tessa Hall since January 2019.
Songs are mostly learnt by ear, and so you don't need to be able to read sheet music to join us, and there are no auditions – complete beginners and experienced singers are equally welcome. I aim to make our sessions uplifting, energising and inspiring – just come along and enjoy the harmonies! Occasionally some of us perform but if that is not your thing then no worries!
If you are interested in joining Sing The World  please contact Tessa Hall for more details.
Our new term starts on Monday 24th January 2022 and we meet fortnightly.
The dates through to the summer are:
24th Jan 
7th & 21st  Feb
7th & 21st March 
4th April 
No singing on 18th April as it is Easter Monday. 
16th & 30th May 
13th & 27th June
11th & 25th July
Safety during Covid times– I ensure that we have room to spread out in the hall by keeping numbers lower than usual, we also have plenty of ventilation so please wear layers in the colder months so that you are comfortable while you sing. You are also asked to carry out a lateral flow test befoe you come in order to keep all the choir members and their famlies safe. We don't wear masks while we are singing but depending on the guidance and the choir numbers, we will wear them when moving around the hall.
Feedback from Sing The World members:
"Makes me feel good – thank you!"
"I enjoy Sing The World very much! I think all the songs are fab,
and they are all well taught."
"Very rewarding and absorbing. Amazing technique and great people!"
"It is simply life-affirming – wonderful."
In pre-Covid times we used to host Saturday singing workshops, I'm hoping that we can run more of these later in 2022 , details will be on our Singing Workshops page.