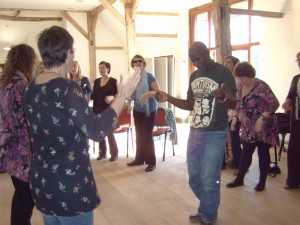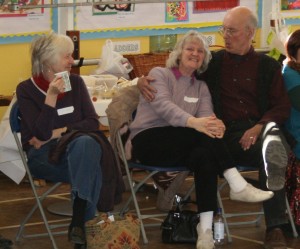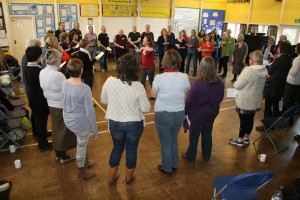 Our first guest singing teacher was Bruce Knight, who came to us in 2004 and 2009.
Here is our list of past Saturday singing workshops from 2011 onwards:
2011
Kirsty Martin, February 2011
Becca Flintham, May 2011
Becca Flintham, December 2011 – 'Singing into Winter'
2012
Tessa Hall, March 2012 – 'Singing into Spring'
Roxanne Smith, May 2012 – 'Sing For Spring'
Lucky Moyo, October 2012
2013
Tessa Hall, February 2013 – 'February Sing'
The B Naturals, April 2013
Becca Flintham, Oct 2013 – 'Mellow and Magical'
2014
Ali Orbaum, February 2014 – 'Sing Your Socks Off'
Tessa Hall, April 2014 – 'Sing For Joy'
Kathy McQuillen, June 2014 – 'Let's Sing Into Summer'
Becca Flintham, October 2014 – 'Songs From The Heart'
2015
Sarah Pennington and Gilo, February 2015 – 'Sing Your Heart Out'
Tessa Hall April, 2015 'Songs Of Freedom And Change'
Becca Flintham, November 2015 'Singing All The Way!'
2016
Becca Flintham, November 2016 – 'Raise Our Voices'
2017
Tessa Hall, May 2017 -'Everybody Sing'
Feedback gained from past workshops:
"Brilliant day, fab songs, very well led, great lunch too, many thanks."
"Great workshop, beautiful harmonies and a time to relax."
"Excellent venue, brilliant day, thank you."
"Lovely setting, good tunes."
"Just do more – this was a really great day!"
"Keep on doing what you are doing, it's great."
"Great venue, spacious light and airy. Bring and share food was delicious!"
"Enjoyed every minute."
2018
With the B Naturals. 'Good Songs Workshop' on Saturday 17th March at John Rankin Infant School Hall.
We had a fabulous day and even braved the snow to get there!
2019
Becca Flintham 'Raise Our Voices' Saturday October 20th